Android WhatsApp to iPhone Migrator

Switched from Android to iPhone and Worried About Losing Your WhatsApp Messages?
Many people stick to their iOS or Android and would rarely make a switch. But there are many who toggle from one popular platform to another. You could be switching from an Android to an iPhone or vice versa. Either way, you need a few tools that would make this transition as convenient as possible. You don't want to lose your contacts, messages, emails that you may have on the phone and you certainly don't wish to lose your WhatsApp messages. If you secure your phonebook during the transition then your WhatsApp contacts are secured by default. That wouldn't happen with your WhatsApp messages. You need to find other ways to transfer your WhatsApp chat history.
There are many ways to copy WhatsApp messages from Android to iPhone. You could simply use WhatsApp's own 'Chat Settings' which has an option 'Email Chat'. This will allow you to send the chats to a desired email address, with or without media files, and you can access those emails, or chats, on your new phone. However, there are some major problems with this method. You cannot send emails that have many media files, ala images and videos. You may have to use one email for one user if there are too many chats. You wouldn't be able to sync the messages, which means that the chats you have emailed to yourself will not be imported in your WhatsApp on the iPhone or the Android phone, whichever you are switching to.
There is another option of taking backups of messages on WhatsApp and then when you use the same number on the new device to access WhatsApp, you would get a notification that says there are message backups and you can restore them on your new device. This method will not work if you're switching from one OS to another, i.e., from Android to iPhone. This also doesn't work if you change your number. If you lose your phone, change your number and if there are any issues either with WhatsApp or your carrier, then this process will not work. The easiest and surest way to transfer WhatsApp chat history from Android to iOS is to use Android WhatsApp to iPhone Migrator.
What is Android WhatsApp to iPhone Migrator?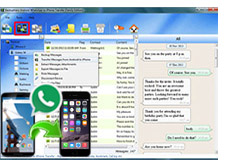 Android WhatsApp to iPhone Migrator which is also known as Android WhatsApp to iPhone Transfer is the best backup software to transfer WhatsApp conversations from Android to iPhone in real time. The entire process is as simple as data transfer from one device to another, which could be two external hard drives, flash drives, memory cards or just two mobile devices. As you would transfer images or videos, movies or just some software files between two devices using a computer, the same method is used here to copy WhatsApp messages from one device to another. See how it works!
Do you really need this tool?
Not really if you don't want to transfer WhatsApp chat history from Android to iPhone. Absolutely yes, if you wish to copy WhatsApp messages to your iPhone!
You are perhaps aware how incompatible Android and iPhone or iOS are. They seldom agree to the same thing, unless it is universally accepted and a few aspects regarding privacy and obvious technical elements. Android WhatsApp to iPhone Migrator is the only viable way to get your Android WhatsApp chat history on your iPhone. It doesn't delete the old messages, it doesn't have any issues with media files or if the transfer is large and it doesn't require any additional peripheral that you wouldn't have already. The time taken, the surety and the safety of the transfer along with the fact that you can have all your messages copied make this the best software available right now.
Key Features
Transfer WhatsApp Messages with Media Files
Copy WhatsApp chat history including all messages with media files from Android to iPhone.
Backup WhatsApp Messages to Your Computer

You can use this tool to take backups of all your Android WhatsApp messages on a PC/laptop.

Export Android WhatsApp Messages to a Document File
This tool allows you to export messages from WhatsApp in .txt, .csv, .docx, .html or .pdf formats.
Print WhatsApp Messages
Print WhatsApp messages from Android phone via the software with a PC that has a printer connected.
Minimum Requirements
| | |
| --- | --- |
| OS (32&64 bits) | Windows NT, Windows 2000, Windows 7, Windows 8/8.1, Windows 10 |
| Processor | 1000MHz Intel, AMD CPU or above |
| Free HD Space | 1 GB or more disk space for installation |
| RAM | 512MB RAM or more |
| iTunes | iTunes 11 or later |
| Android | Android running 2.0 or above |
| iPhone | iPhone running iOS 4.0 or above |