How to Completely Erase All Personal Data from iPhone or iPad
By: Johanna Parker
Posted In: iPhone Tips & Tutorials
Although a lot of people search for methods to easily get their lost data back from an iOS device, there might come a point where you just want to permanently delete and erase data from either your iPad or iPhone. It is important to know that when you hit the delete option for anything, the data vanishes from view but it is still there in the memory of your phone or iPad, and therefore after using a couple of methods like third party tools, that deleted data can be easily recovered. This is because when you delete the data, it actually goes into the temporary files where it will stay in memory until you create new memory or data to override it. While it is in that space, you can easily retrieve it, especially if you have been making backups of your data on iPhone or iPad.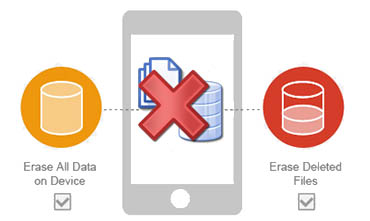 There might be several reasons why you want to delete your data for good and why it is a better for you to do it. For example, it is Christmas and you got a new iPad or iPhone and now you want to get rid of your previous model. In order to do that you will firstly want to make sure that you delete your data permanently so that the new user of your iPhone or iPad – after you sell it or give it away – will not be able to access any of your files and personal data without your knowledge. For many people that might be a very horrible situation; therefore it is best to ensure you delete your data permanently. The second situation in which you may need to delete your data is that your iPad or iPhone is giving you problems or has become really slow and you want to 'renew' its memory so that it can start working super-fast like it used to. In order to do that, you again will want to ensure that all data is permanently deleted and is not somewhere in your device, stored and hidden and thus using memory as a result. A third situation is that your phone needs to get repaired because perhaps you dropped it. You don't want prying eyes to get to your data and therefore you will want to ensure that all data is removed before you send it off for any repairs.
The easiest and safest way to ensure that all your data is deleted is to use a third-party tool such as Safe Eraser for iOS, especially for an iOS device like iPhone or iPad. It is perhaps the best iPhone and iPad eraser that will get your devices all cleaned up like new before you want to resell it, donate it, trade it, or even send it off to repair. Download the program and follow these steps carefully to permanently delete your data from your iPhone or iPad.
Step 1: Run the Program and Connect iPad/iPhone
After you have installed the program on your computer, run SafeEraser on the computer and connect your iPad or iPhone with a USB cable. The program will recognize your device and you will be able to see a main window that will give you the option to either erase all data on device or erase deleted files.
Tip: You can use this program to permanently erase all the data from your iOS device (refer to step 3a) and make your device like new or to permanently erase 'already deleted' data like text messages (refer to step 3b) from your device so that they do not appear in spotlight search and no one can recover them using iOS data recovery apps/software.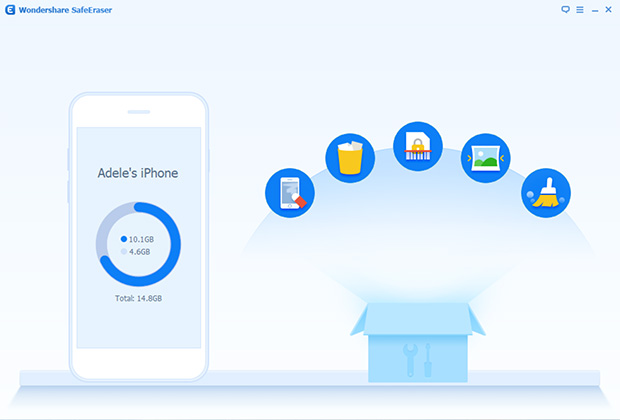 Step 2: Choose the Appropriate Option to Erase Your Data
The main window will give you these options:
1. Erase All Data: this will allow you to erase all the data and settings on your device for good and it will become a new one.

2. Erase/Wipe Deleted Files: this option will only delete the data and settings on your device which have already been deleted, like text messages, pictures, videos, logs, etc. This is the best option to permanently erase deleted iPhone text messages on your iPhone. Remember: it will not delete existing data on your device.

3. Erase Private Data: this option will permanently erase your browsing history, cookies, saved login info, App store and iTunes store search history, etc. It can help protect your privacy and security.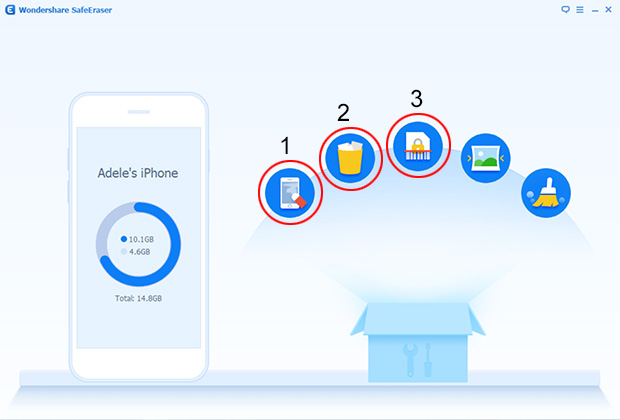 Step 3a: Erase All Data on Your Device
You will have to choose from three security levels to erase all data on your device and then click on the "Erase Now" button after typing 'delete' in the box:
1. Low: This will overwrite all the data with zeroes to ensure that files are no longer recoverable.

2. Medium: This will overwrite the files with junk files so that the files are no more recoverable and nobody will be able to know that you deleted the data.

3. High: This will erase and overwrite your files three times.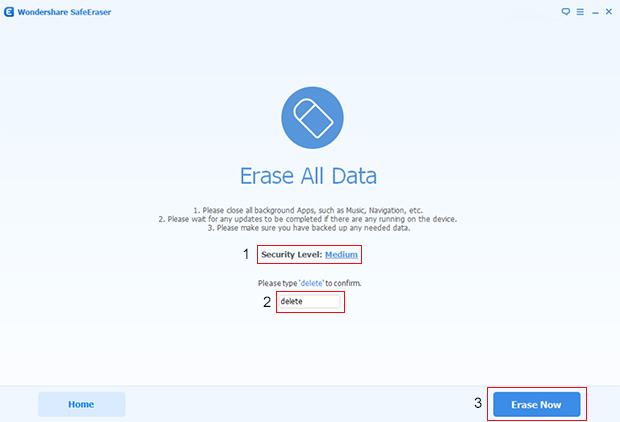 Choose your option according to your requirement. Do remember that higher levels will require more time. After you select the option, the program will erase your data and your device will become like new.
Step 3b: Permanently Erase Deleted Data
Select Erase Deleted Files mode and click 'Start Scan' button to start scanning the deleted data that is still on your device. By default, all files will be selected. Please unselect the files that you do no want to delete and then click 'Erase Now' button to delete rest of the data. Before erasing data from your device software will ask you to type the word 'delete' to confirm.
Note: This mode will only erase already deleted data permanently from your device like deleted iPhone text messages. It will not delete other existing files from your device.

Download Free Trial Version of Safe Eraser