How to Backup or Transfer iPhone Notes to a PC or Mac
By: Johanna Parker
Posted In: iPhone Tips & Tutorials
Genius and inspiration does strike, but don't they seem to strike completely randomly? Sometimes it is when you are asleep, and you suddenly wake up, realising that you've solved a problem that you have been struggling with all day. Sometimes you are walking the dog, and a catchy way to open up that report at work hits you. Other times you meet someone rather lovely, and you need to write down their email address. In all of these different situations – and more – the Notes app on the iPhone is perfect. You can quickly write something down that you do not want to forget, and come back to it later when you are able to deal with it properly.
Of course, that does mean that you do not want to lose that note. You may even want to make sure that you can keep hold of it for a long time. If you have typed out a huge amount of text, then it seems like such a chore to have to type it up all over again on your computer. In a perfect world, of course, you would just be able to transfer your iPhone notes onto your computer, but sadly the iPhone app doesn't work like that...does it?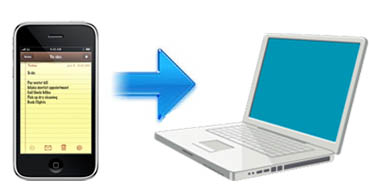 Thankfully, it does. New technology has been released in the form of a simple computer program that you can download for free, and it interacts with your iPhone in a rather ingenious way. By having a little chat with your iPhone and your computer together, the programme – called iPhone Transfer – is able to take all of your notes from your iPhone and reformulate them into a file type that your computer is comfortable with. You can then save the notes absolutely anywhere on your computer, and be assured that they will always be there for you, whatever happens to your iPhone.
It does not matter whether or not you are a whizz at technology. This computer program has been purposefully designed to help those that are not technology savvy to ensure that they will not lose all of those vital little bits of information that they have stored within the Notes app on their iPhones.
It is incredibly simple to copy your iPhone notes onto your computer. Download the program for your operating system and follow these steps that can help you back them up:
Step 1: Launch the program and connect your iPhone to the PC or Mac
As you run the program, follow the instructions, and connect your iPhone to your computer. You will see the following windows as soon as your iPhone gets recognized by the software: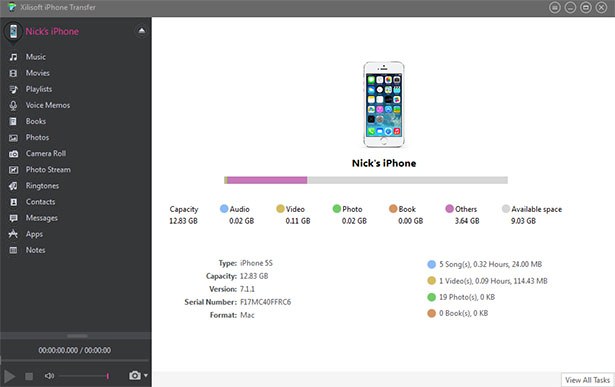 Step 2: Click on the Notes icon
Within the program you should be able to see a 'Notes' icon that is on the left hand side of the window. Click on this, and you will see all your iPhone notes in the program interface.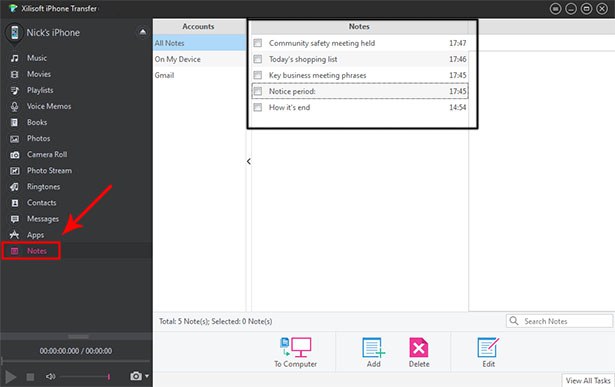 Step 3. Select the notes and click To Computer button
Now, select all of the iPhone notes that you want to transfer over to your computer and click the 'To Computer' button. You will then be asked where you want to save your notes. Decide which folder is the best for you, and select it. Then click 'OK'.
Within moments, all of the notes that you have selected will have been copied onto your PC, all as individual files.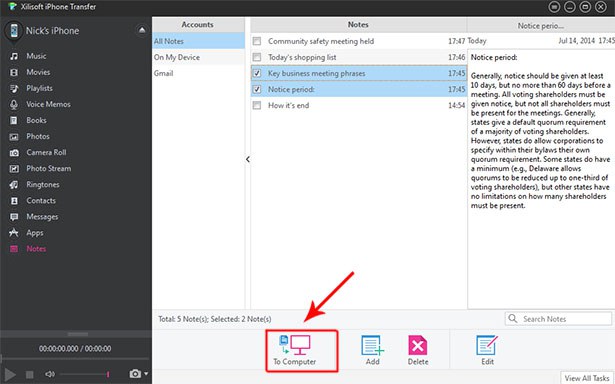 Add, edit, and delete notes on your computer:
With this program you can also create new notes and edit or delete your existing iPhone notes from your PC or Mac.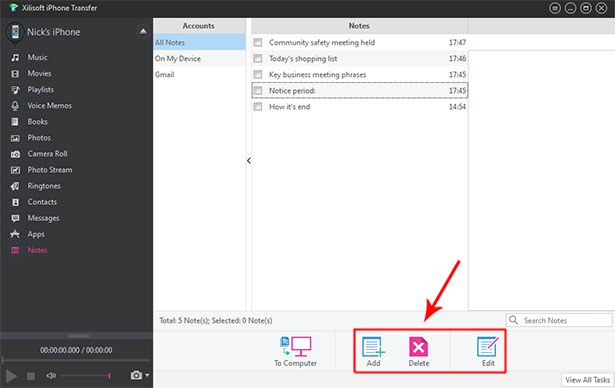 Note: This tool also lets you manage other content such as contacts, text messages, music, photos, videos, etc. on your iPhone.
Download iPhone Transfer for Windows Free