How to print iPhone SMS/text messages on a PC
By: Johanna Parker
Posted In: iPhone Tips & Tutorials
Have you got some really important iPhone text messages that you want to print for your records? For example, you may want to print iPhone SMS conversions related to your business. There are several workaround to printing text messages from an iPhone.

When viewing the text messages on your iPhone, hit edit, select all the required messages, and then email them somewhere. But by following this approach, you will lose all the date/time information. Another way to accomplish this by taking a screenshot (press and release the Sleep/Wake and Home buttons simultaneously) and email it to yourself. If it's a long conversation, you have to take multiple shots to capture the whole conversation.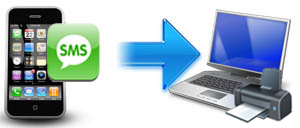 iPhone SMS Transfer Program can also help you print iPhone text message on your PC effortlessly in no time. Check the following step-by-step guide:
Step 2: Launch the program and connect iPhone to PC
After installing the software, launch it and connect your iPhone to computer via USB cable. Program will automatically display all your iPhone SMS as shown in the following picture.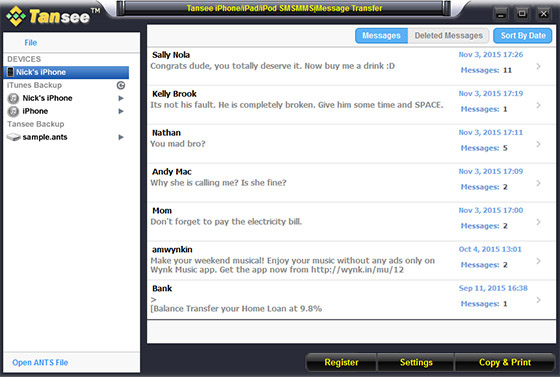 Step 3: Copy SMS text messages from a particular iPhone contact
Click on any particular contact to check all SMS records associated with that contact. Now, click "Copy & Print" button, choose HTML or PDF file format; these formats support print out (check step 4b and 4c) and click Next. You'll now need to click the "Start Copy" button and choose the file path to save iPhone SMS file on your hard drive. You can also copy selected SMS from iPhone to your computer.
Note: This program also allows you to directly print text messages and you can also transfer iPhone text messages to PC as a text and JPG (photo) format with this program.
Step 4: Print iPhone Text Messages
(a). To print iPhone SMS directly:
To print all or selected messages from a particular contact, select that contact, click "Copy & Print" button and select "Print" option from all the available options. Now select the text messsages you want to print and click "Start Print" button as shown in the picture below: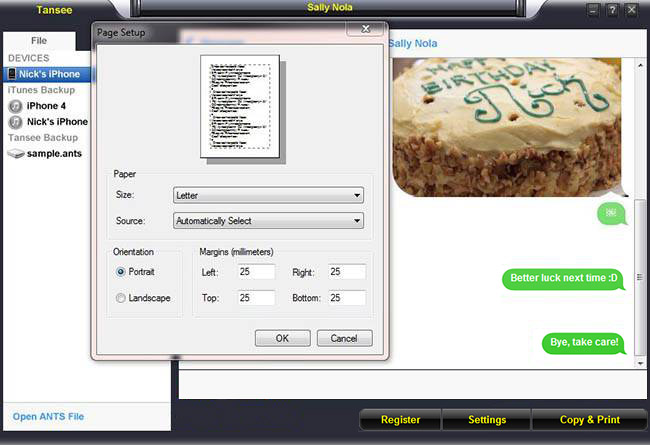 (b). Open HTML file in your browser and print
Double click on the HTML to open it with your default browser, and then press CTRL+P (on a Windows PC) or Cmd-P (on a Mac) to print SMS messages off your iPhone.
Tip: With the iOS 7 theme supported by the HTML file, you can print your text messages almost exactly they appear in your iPhone.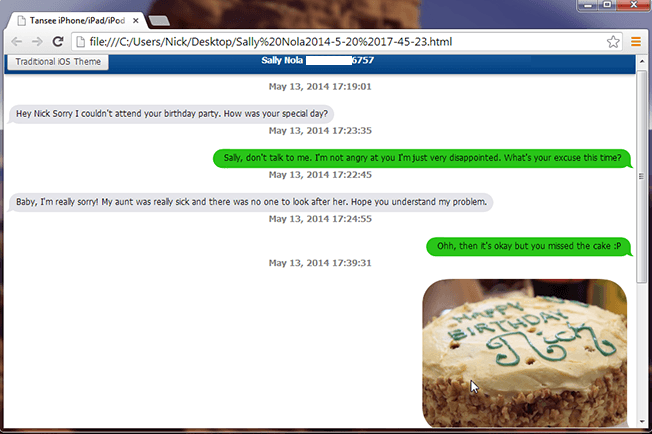 (c). Open PDF file in any PDF viewer and print (New)
If you need your iPhone text messages for some legal proceeding then PDF format can be quite useful for you. You can open the PDF file that you've created in the step 3 in any PDF viewer like Adobe Reader and instantly print your text messages.
Note: This program exports iPhone text messages in PDF/A format which is specialized for the digital preservation of electronic documents.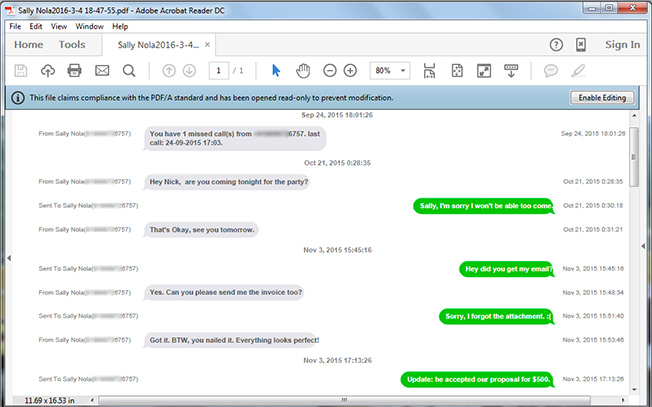 Note: You can also make use of this program to backup or copy iPhone SMS to computer as a .txt and .ants (editable) file format.
Download iPhone SMS Transfer Windows for Free