How to Transfer Android SMS Text Messages to iPhone
By: Johanna Parker
Posted In: iPhone Tips & Tutorials
If you are looking to transfer all the data (text messages, contacts, music, photos) from Android to iPhone, check this tutorial.
People get bored with their phones from time to time. It is just something that happens when it comes to technology. People do not necessarily switch from an Android to an iPhone or vice versa because they think one is better than the other. They just make the switch because they get bored and want to try something new or different for a while. For whatever reason you decide to switch from one smartphone to the other, one of the biggest desires that people have is wanting to take things with them from their old phone to their new phone. For example, let's say you have a romantic text message from your significant other or a sentimental text message from your child; you probably do not want to lose that text message just because you are switching phones. Fortunately, you do not have to, we'll show you how to transfer text messages you're your Android phone to your new iPhone.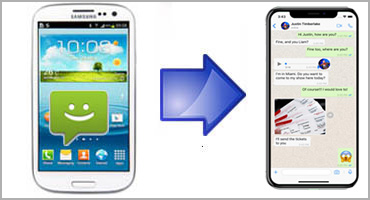 Well, there is no direct way for you to hack into your Android's file system in order to transfer text messages. Fortunately, just because you cannot hack into the system does not mean you cannot transfer SMS from Android to iPhone if you have decided you want to switch to using an iPhone. There is a program called Android SMS to iPhone Transfer that was designed for the sole purpose of making it easy for you to transfer text messages from one phone to another. By downloading the program and following four quick and simple steps anyone can transfer their text messages from Android to iPhone.
Step 1: Execute the program and connect your iPhone and Android to Computer
First, you are going to need to download and install the program. Once the program has finished installing you can execute the program and connect your both phones to computer with USB cable. Then, you will just have to wait for the program's interface to launch on your computer.
Note: You will need to make sure the device is set up for USB debugging if the program does not detect your Android phone.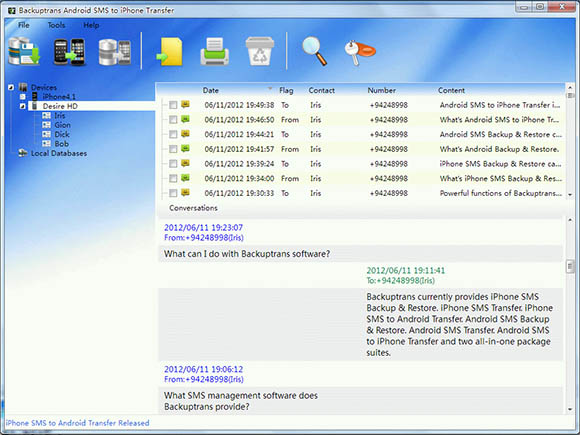 Step 2 (a). Transfer all SMS Text Messages
First, you are going to need to select your Android from the list of devices on the user interface. Then, you are going to press the button labeled "Transfer Android SMS to iPhone". You can find this button located near the top toolbar. You also have the option of selecting "File" on the toolbar and then selecting "Transfer Android SMS" from the drop down menu that pops up. There is actually a third way to accomplish this as well. You can also right click on the name of your Android device on the device list. Then, you can select "Transfer Android SMS" from the menu that pops up.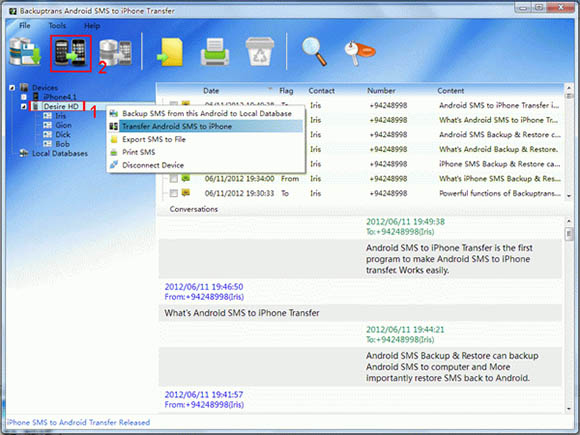 Step 2 (b). Transferring SMS Messages From Single Contact
In order to transfer the SMS messages from a single contact you are going to need to click the contact's name after you have selected the Android device. Then, you can repeat Step Two and use whichever method you prefer to transfer your Android SMS messages to the iPhone.
Step 3: Select the Destination
Finally, you just need to tell the program where you want the SMS messages to be sent. This just means you need to select the iPhone that you want the program to send the SMS messages two. Then, you can click the button labeled confirm and the program will complete the transfer.
Step 4: Kill Messages Application on Your iPhone
You have to kill messages application on your iPhone first in order to view the SMS messages you have just transferred to your iPhone.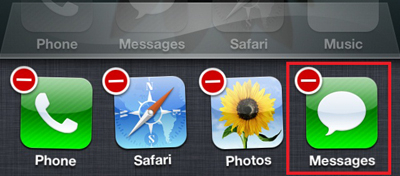 Download Free Evaluation Version