How to Use MobileTrans to Transfer Data from One Smartphone to Another
Moving your data from an iPhone to an Android or from an Android to an iPhone isn't all that straightforward in most cases. Granted, you can use a program called MobileTrans Phone Transfer to make that transition easily and smoothly.
MobileTrans Phone Transfer is an advanced tool that allow you to transfer data such as contracts, SMS text messages, images, music, etc. from iPhone to Android or from Android to iPhone in a few easy steps. You just need to follow the three steps mentioned in this guide to transfer data from one phone to another.


Note: In this guide, we'll only show you how to transfer data between iPhone and Android, but MobileTrans Phone Transfer tool is fully compatible with Windows, and BlackBerry smartphones too.
Step 1: Download, Install and Run MobileTrans on Your PC
First, you need to download and install MobileTrans on your PC and select the "phone to phone transfer option" from the main window. When you launch the program, you'll get a window as follow:
Note: If you want to transfer data from a BlackBerry or iTunes backup file to another phone, click the "Restore" button under the Backup and Restore section of the software.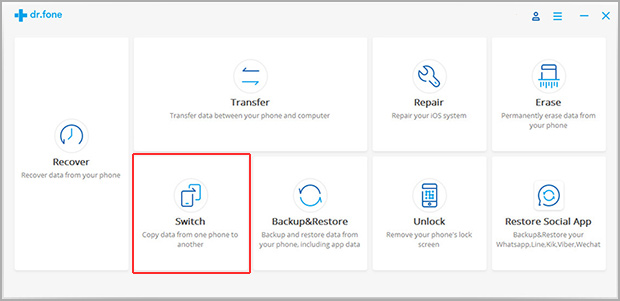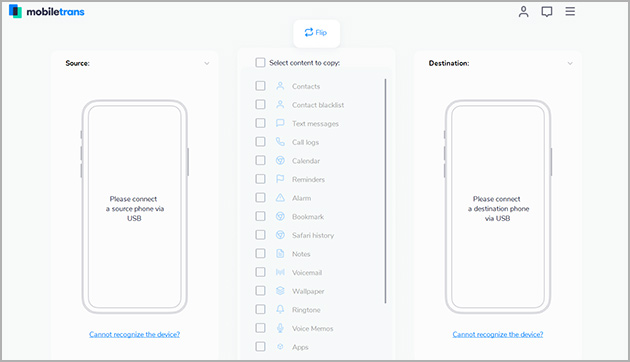 Step 2: Connect Both Devices to Your PC
Now, you need to connect both your iPhone and your Android phone to your computer via USB cables at the same time. After doing this, the program will automatically detect your phones.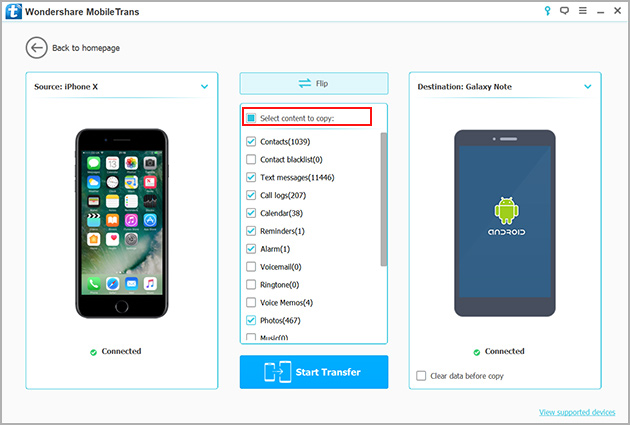 Step 3: Begin to Transfer Data from One Phone to Another
In this last step, select the data you want to copy to another phone and click the button labeled "Start Copy" to start the data transfer process.
Note: Please make sure that the latest version of iTunes is installed on your computer and both of your phones are connected all the same time during the data transfer process. Check this article if your phone fails to connect with MobileTrans Phone Transfer.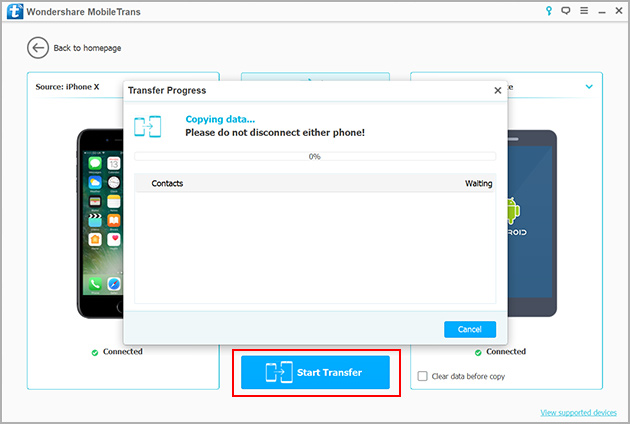 You can use this program to transfer all the data such as contacts, SMS, music, videos, and images between and iPhone and Android with ease and without worrying about any data loss.
Buy Full Unlimited Licensed Version of MobileTrans Windows ($29.96)