iPad to Computer Transfer

Get iPad to Computer Transfer tool to transfer files between iPad and PC freely and easily
Have you ever needed to transfer files from your iPad to your PC or vice versa, but you do not have extra money to shell out for expensive iPad transfer tools? Perhaps you are having a hard time finding a transfer files program for your iPad that that can be used without having to Jailbreak your device? A program called iPad to Computer Transfer may be just what you need. Click here to see how it works!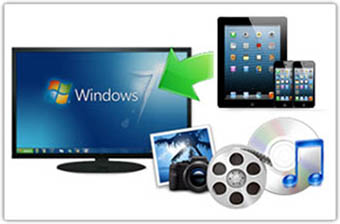 This program was designed to help individuals transfer files from their iPad to their computer without iTunes (works perfectly with iPhone and iPod too). The program is also capable of transferring files from your computer to your iPad as well. Furthermore, this is not a program that is limited to being used on an iPad. Regardless of what Apple device an individual owns, this iPad to PC transfer program works perfectly with each and every single one of them, such as iPhone and iPod.
Why to Choose iPad to Computer Transfer Program?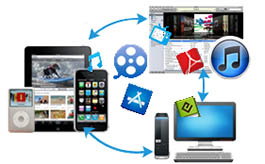 Naturally, there are times when having a program like iTunes that can transfer files from your computer to your iPad isn't enough. After all, it is not going to do you any good to transfer video, audio and other content files from your iPad to PC as iTunes only offers one way synchronization of music, video and other content from computer to iPad. The iPad to Computer Transfer program actually allows you to transfer iPad files to computer without any limitations. You can download and use the evaluation version absolutely free:
This is a must have program for an iPad user or an individual with any Apple device. This is because it makes it easy to do things such as transfer iPad/iPhone files to your PC or vice versa. The thing that users really love about this application is it does not require your device to be jail broken like so many other transfer tools do. Most individuals are going to discover that in order to find another program that is equally as resourceful as this one, they are going to have to jailbreak their device or be ready to pay a ton of money for a download.
It isn't a program that requires an individual to have extreme technology skills. In a matter of minutes any Apple user will be able to call themselves a master of this exceptional program.
Key Features and Main Functions of the Program
It isn't just the convenience or efficiency of this application that makes it a desirable download for all iPad users. It has a lot of key features that really make it stand out when being compared to similar transfer tool applications. Some of these key features include:
The ability to copy and backup iPad files on your computer.
The ability to transfer files from your PC to your iPad in seconds.
The ability to manage movies, music, TV shows, and eBooks with ease.

Let's you open and manage your iPad as a portable hard disk.

Fully supports iPad, iPad 2, the new iPad, iPad 4, iPad Mini/Mini 2, iPad Air, iPad Mini 3, iPad Air 2, iPad Mini 4, iPad Pro and other iOS devices, such as iPhone and iPod.

Fully compatible with latest iOS 11 (also supports old iOS versions) and iTunes 12.
Minimum System Requirements

| | |
| --- | --- |
| OS | Microsoft® Windows 10/8/7/Vista/XP |
| Processor | 1GHz Intel/AMD or above |
| RAM | 256MB RAM (512MB or above recommended) |
| Free Hard Disk | 50MB or more disk space for installation |
| iOS | iOS 5, iOS 6, iOS 7, iOS 8, iOS 9, iOS 10, iOS 11 all versions |