iPad to Mac Transfer

Why Choose iPad to Mac Transfer Tool?
Are you having a hard time managing your iPad device? Are you someone who have not gotten around to transferring all of those memorable pictures and videos from your iPad to your Mac? The iPad to Mac Transfer application was created to help individuals in any of these situations. With this application, iPad users can transfer iPad data to Mac with ease. This handy program allows you to transfer files from your Mac to iPad like iTunes and also copy files from your iPad to your Mac. iPad users really are not going to be able to find another application that works quiet like this one anywhere. See How it Works!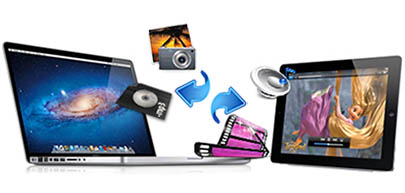 The iPad to Mac Transfer program was designed to be a quick and easy option for iPad users who are looking to transfer, rip, copy, or manage their music, videos, photos, and other data files. This is an application that takes transferring files to and from an iPad device to a whole new level of convenience and ease. What a lot of users really love about this program is the fact that transferring, ripping, copying, and managing the data is possible both with and without the use of iTunes. This program also gives Mac users the ability to create, modify, and delete playlists on their iPad device as well.
The iPad to Mac Transfer is really a must have application for all iPad users. It is very user-friendly and comes equipped with search and filter tools very similar to what an Apple user would find on iTunes. Most users find that they really love that being able to transfer files between iPad and Mac is as simple as knowing how to use a drag-and-drop interface. This program is desirable because it supports all kinds of iPhones and iPods too. The application also fully supports the latest iOS 10.x (also compatible with older iOS versions).
Key Features of iPad to Mac Transfer Program
The versatility of your favorite Apple device has never been great then with the iPad to Mac Transfer application. Naturally, the number of amazing features that this application offers to its users is pretty high. However, there are a handful of key features that most users agree plays a huge role in why they love the problem so much. Some of the more notable features that really make this application stand out include:
Fully compatible with iPad, iPad 2, iPad 3, iPad 4, iPad Mini/iPad Mini 2, iPad Air, iPad Mini 3, iPad Air 2, iPad Mini 4, iPad Pro and with every iPhone and iPod;
User friendly interface makes the file transfer process quite easy;
It let's you transfer and backup iPad files to your Mac;
Let's you copy files from Mac to iPad within seconds;
Quick search tool allows you to quickly find movie, music or photo in your iPad;
Create and edit playlists on your Mac;

Fully support iOS 10.x (also supports older iOS) and iTunes 12.x.
Minimum System Requirements

| | |
| --- | --- |
| Supported OS | macOS Sierra, Mac OS X (El Capitan), 10.10 (Yosemite), 10.9 (Mavericks), 10.8, 10.7, 10.6 |
| Processor | All Intel® Processors |
| Free Hard Disk | 50MB or more disk space for installation |
| iOS | iOS 5, iOS 6, iOS 7, iOS 8, iOS 9, iOS 10 all versions |
| iTunes | iTunes 10 or later |