iPhone to Mac Transfer

When do You Need to Get the iPhone to Mac Transfer Tool?
iPhone to Mac Transfer (iTransfer) is an iPhone management tool that makes iPhone management much more convenient than before. This program can easily transfer iPhone music, SMS, contacts, videos, movies, photos, podcasts, TV programs and more to Mac and iTunes in a few easy steps. Furthermore, just like iTunes (or we would say easier than iTunes), this program also allows data transfer from Mac to iPhone. See How it Works!
Continue reading to know why this software is a must-have program for iPhone users.

"My old computer was damaged unfortunately, and my iPhone data was stored on that PC with iTunes. Now, I'm trying to sync my iPhone to iTunes to transfer files from my iPhone to my new Mac System. But when I hit "Sync Music," it prompt me with, "Are you sure you want to sync music? All existing songs and playlists on the iPhone will be replaced with songs and play-lists from your iTunes library." But currently, there is nothing in my library. Is there any way to transfer music and other files from my iPhone to my new Mac or iTunes liabrary?" – Question asked by iPhone user.
By design, an iPhone can be synced with only one computer at a time. Any attempt to sync with a new computer/iTunes library will result in all iPhone/iTunes content being first erased from your phone and then replaced with the content from the new computer. Even if you replace your hard drive, your iPhone will see this as a "new" computer. iTunes synchronization is also one way - from Mac to iPhone. iPhone users cannot transfer their files directly from an iPhone to a Mac computer.
This is the default feature and cannot be avoided unless you have a jailbroken iPhone, which can be tweaked with default settings to connect to your Mac and transfer files to/from your iPhone. iPhone to Mac Transfer (iTransfer) can be your best bet to effectively deal with these stressful situations
iPhone to Mac Transfer - Transfer Files between iPhone and Mac without iTunes & Jailbreak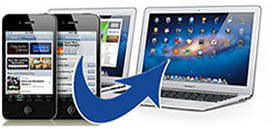 This tool makes it possible for iPhone users to transfer their iPhone photos, music, videos, SMS, podcasts, TV programs, etc. to a Mac easily. This iPhone to Mac Transfer utility can also help users to transfer files from an iPhone to Mac/iTunes and from Mac to iPhone too. It is a must-have tool for all iPhone/iPod users who have lost their iTunes content either by replacing their PC or due to any kind of data damage.
Besides the file synchronization and transfer, this iPhone Manager software lets you manage your phone as a portable hard drive. It is easy and fast compared to iTunes in transfering files between your iPhone and Mac. It is fully compatible with the newest updates iOS 9 (support older iOS versions too) and iTunes 12. Download a free trial version now!
iPhone to Mac Transfer (iTransfer) tool supports iPhone 3GS, iPhone 4, iPhone 4s, iPhone 5, iPhone 5c/5s, iPhone 6/6 Plus and the new iPhone 6s & 6s Plus and various iPod and iPad devices. Following are the few key features of this amazing utility:
Supports iOS 5, iOS 6, iOS 7, iOS 8 and now also supports the latest iOS 9
User-friendly and interactive GUI makes it easy to use
Supports iPod touch and iPad too
Transfers music, videos, photos, and eBooks from iPhone to Mac/iTunes
Transfers music, video, photos and more from Mac to iPhone without using iTunes
Transfer files between different iOS devices
Transfers iPhone SMS messages, and contacts to Mac
Create, edit and delete photo albums easily
Create a new playlist or rename and delete it freely
With the iPhone manager, manage iPhone/iPod/iPad as a portable hard drive
Main Functions and Features of iPhone to Mac Transfer (iTransfer)
Transfer iPhone Files to Mac
In using this tool, you will be able to transfer your iPhone files such as music, videos, photos, TV shows, podcast, eBooks, etc. to your Mac's local disk easily.
Mac to iPhone Transfer Facility
This tool also helps users transfer all their files, like music, photos, movies, eBooks, etc. from their Mac to iPhone in no time.
Transfer Files Between iOS Devices
This tool also allows you to transfer files from your one iOS (iPhone/iPad/iPod) device to another.
Backup iPhone Messages
When your iPhone SMS box gets full, this tool will allow you to transfer your iPhone messages to your Mac to avoid missing any important text messages.
Backup and Restore iPhone Contacts

You can also use this tool to backup your iPhone contacts on a Mac for later use.
iPhone to iTunes Transfer
This handy tool can also be used for transferring various files from an iPhone to iTunes in case your device ever crashes.
Use iPhone as External Hard Drive
With this tool, you can manage your iPhone as an external hard drive.
Minimum System Requirements
Operating System: Mac OS X (El Capitan), 10.10 (Yosemite), 10.9 (Mavericks), 10.8, 10.7, 10.6
Processor: 1 GHz or above Intel processor
RAM: Minimum 512 (1024 or above recommended)
HD Space: Minimum 30MB for installation
iTunes: iTunes 11 or later