iPhone Messages Transfer Tool

Transfer iPhone Messages to your PC without Trouble
Is your iPhone not receiving new messages because your inbox is full? Are you looking for an easy solution to transfer iPhone messages to PC or computer? If yes, then you are in the right place. We would like to introduce you to the iPhone messages transfer tool (iOS Message Transfer) which will allow you to transfer iPhone messages to PC in just a few easy steps. This tool will enable you to transfer specific messages (SMS), all SMS of a specific contact, or all messages on your iPhone to PC in just a few seconds. See How it Works!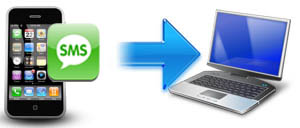 All thanks to this tool, you can now easily transfer iPhone messages to PC in PDF, Text, JPEG or HTML file format (exactly they appear in an iPhone) and access them any time. This iPhone SMS transfer utility can also sync your iPhone library to iTunes directly. It is an easy to use utility, and you don't have to be a computer expert to use this tool to transfer iPhone SMS/Messages to PC. Download a trial version now!
iPhone Messages Transfer is a desktop utility that runs completely on your PC, so your iPhone SMS remain secure and private. Extracting your iPhone SMS messages and transferring them to your PC has never been easier. This software is intended to transfer only iPhone SMS to computer. If you are looking for a tool to transfer all your files, such as music, movie, eBooks, contacts, voice memos, podcasts, and SMS from your iPhone to Computer/iTunes, then check out the iPhone to Computer Transfer Tool.
Main Functions of iPhone Messages Transfer Tool
Transfer iPhone Messages/iMessages to PC in Text, PDF, JPEG, and HTML File Format
Transfer all the messages, specific message, or the messages of specific contacts to your computer.
Transfer WhatsApp Messages to a Computer
Not only iPhone text messages but you can also use this tool to transfer iPhone WhatsApp messages to your computer.
Works Perfectly with iPod Touch and iPad
You can also use this tool to backup iMessages from iPod touch and iPad to your Computer.
All the Recent Updates are supported
This tool is fully compatible with iTunes 12 and iOS 11 (also compatible with older iOS versions).
Search by Contact Name, Number or Content
This program allows you to search for certain iPhone text messages by contact name, number or content.
No Jailbreak Required
This program works without jailbreaking (also works for jailbroken iPhones).
Multiple-Language Support
This program supports various languages including English, German, Japanese, French, Italian, Spanish, and Simplified Chinese.
iPhone Messages Transfer Tool - System Requirements
Operating System - Runs on Windows 10/8.1/8/7/Vista/XP;
Processor - 1000MHz Intel, AMD CPU or above;
RAM - 256 MB Ram or more;
iTunes - iTunes 11.0 or later for iOS 5 to iOS 11.x