MobileGo iOS Manager

What is MobileGo/TunesGo iOS Manager for Windows?
MobileGo (now known as TunesGo) iOS Manager is the perfect iPhone/iOS management program that exceeds the capabilities of iTunes alone and lets you transfer music, movies, TV shows, music videos, podcasts, playlists, SMS messages and contacts from your iPhone/iPod/iPad to computer/iTunes and vice versa. See How it Works! Furthermore, the program also enables you to easily transfer photos, music, videos, contacts, SMS messages and more from one iOS device to another.
Click here if you're only looking for iPad file transfer/management program.
Currently, MobileGo iPhone Manager is fully compatible with the following Apple devices:
iPad mini, iPad with Retina Display, iPad Air, iPad Air 2, iPad 2
iPhone 3GS, iPhone 4/4S, iPhone 5/5C/5S, iPhone 6 and 6 Plus
iPod touch 5, iPod touch 4, iPod touch 3
This iOS manager offers a simple, intuitive management system that surpasses iTunes and provides even greater versatility. It lets you manage your all iOS devices like never before:
Transfer files from your iPhone/iPod/iPad to your PC/iTunes.
Copy files from your computer to an iPhone/iPod/iPad.
Transfer files between different Apple devices.
Why Should I get MobileGo/TunesGo iOS Manager?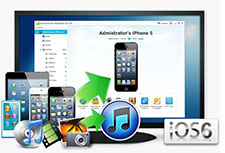 Looking for an easy way to transfer files, such as songs, movies, photos, videos, podcasts and playlists to and from your computer/iTunes? Afraid of losing your iDevice data because of iTunes crash, OS reinstall or any other unknown reason? This is not a matter of concern anymore. MobileGo iOS Manager allows you to easily copy/backup video, music, e-books, messages, voice memos, photos and more from your iPhone, iPad, and iPod back to iTunes and your PC. That's not all! You can also use this handy program to back up your contacts and text messages from your iPhone to a computer.
| | |
| --- | --- |
| | |
MobileGo iOS Manager is also a perfect tool for those that own Apple devices such as the iPhone, iPod and iPad. One of the main concerns for users is managing and organizing all of your media including photos, audio files, and movies from one system to the other. This amazing utility lets you transfer files directly between various Apple devices, such as an iPhone, iPod and iPad without iTunes. In short, it makes it simple to share stuff between all your Apple devices or with your friends and family.
Key Features of MobileGo iOS Manager
Transfer Media Files to PC/iTunes
Using this iPhone manager, you will be able to transfer music, videos and more from an iPod/iPhone/iPad to iTunes/PC.
Transfer Files to iOS Devices
This program lets you import music, videos, playlists, podcasts and more from your PC to any iOS device without iTunes.
Backup or Copy iPhone Contacts and SMS Messages to a PC
This iPhone management program can easily backup your iPhone contacts and text messages to your PC with a few mouse clicks.
Transfer Data Between Various iOS Devices

Without using iTunes, you can transfer music, photos, contacts, SMS messages and more between different iOS devices with ease.
Convert Music and Video Files
During the file transfer, this program lets you convert your video and music files to Apple-supported formats.
Organize Music Easily
You can also use this program to create playlists and organize music files on your iPhone, iPad and iPod.
Supports Devices Running the Latest iOS Version
This program is compatible with all the devices running iOS 8 (support older iOS versions too).
Minimum System Requirements
| | |
| --- | --- |
| OS (32&64 bits) | Windows XP, Windows Vista, Windows 7, Windows 8/8.1 |
| Processor | 750MHz Intel or AMD, or above |
| Free HD Space | 1 GB or more disk space for installation |
| RAM | 512 MB or above |

Supported iOS Devices

| | |
| --- | --- |
| iPhone | iPhone 3GS, iPhone 4, iPhone 4S, iPhone 5, iPhone 5S, iPhone 5C, iPhone 6, iPhone 6 Plus |
| iPad | iPad, iPad 2, iPad 3, iPad 4, iPad Mini, iPad Air & iPad Mini with Retina Display |
| iPod | iPod touch 5, iPod touch 4, iPod touch 3, iPod classic 3, iPod classic 2, iPod classic, iPod shuffle 4, iPod shuffle 3, iPod shuffle 2, iPod shuffle 1, iPod nano 7, iPod nano 6,iPod nano 5,iPod nano 4, iPod nano 3, iPod nano 2, iPod nano |