MobileTrans Mac

MobileTrans for Mac: A New Development in Data Sharing Between Different Smartphones
Tired of the effort it takes to transfer data from your smartphone to another smartphone? Sure, some phones have simplified this with touch sharing, desktop management programs and other solutions. However, not all phones have these features. Or, your friends may not have a phone that is compatible with yours. What, then? This is where MobileTrans Tool for Mac comes in handy. MobileTrans for Mac can help you transfer data from iPhone to Android, Android to iPhone, old iPhone to new iPhone and so on. See How it Works!
MobileTrans is a simple app that allows Mac users to transfer data between different smartphones. Just download and install it on your iMac and you are ready to go. Anyone who has MobileTrans can instantly transfer data from one smartphone to another. Skip the steps of hooking up your phone to a PC, transferring data, and then hooking up the other phone to transfer it back. Forget about data or file loss due to incompatibility of operating systems. Let MobileTrans help you transfer data from your old phone to your new phone today.
Why Should I Download MobileTrans for Mac?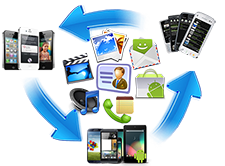 Changing over to a new phone can be tedious. Sometimes you may not be able to transfer all the data or files that you want or need from your old phone to your new one. Don't post on Facebook about needing people's numbers! Instead, just use MobileTrans to transfer data from your old phone to your new phone. Getting your brand new phone up and running will only take minutes. This is true even if you are switching brands, operating systems, or carriers. You can save all your pictures, videos, music, contacts, and more. Our program will transfer all the information you have entered about each of your contacts over to your new phone in moments.
Transfer All Types of Data
But what kind of things can you transfer with this program? Contacts can be transferred from any operating system or compatible phone to another. You can transfer data from iPhone to Android, including SMS messages, photos, videos, and music. Or, you can transfer files from Android to iPhone, including all those mentioned above. Sharing things like pictures, videos, messages, music, or contacts has never been so simple. Just be sure that your phone is supported and hook both your devices up to your PC with MobileTrans. Share with loved ones, coworkers, or business partners.
Many Phones Supported
What sort of phones does MobileTrans for Mac support? Many! More than likely, your phone is already supported. This means that you do not have to worry about things like network compatibility when using this app. Android, iPhone, along with companies like HTC, Sony, Nokia, Motorola, and Samsung, may all be supported. This program takes you through the process step-by-step. Best of all, you can still use this software no matter what carrier you happen to currently be on, what you are switching to, or who the other person uses.
What are the significant attributes of MobileTrans Phone Transfer for Mac?
Transfer Data from One Phone to Another on Your Mac
Transfer your SMS, contacts, pictures, videos, music, and more, from one phone to another.
Cross-Platfrom Data Transfer Supported
Quickly share information, files, and data with others, no matter their carrier, phone, or operating system.
No Data Loss
No risk of data breach or loss during transfer.
Transfer Large Amount of Data in Minutes

Can help you to transfer large amounts of information and data in just a matter of moments.
Restore Data from a Backup File and Transfer to Your New Phone
MobileTrans for Mac also allows you to restore data on your phone from iTunes, BlackBerry and MobileTrans backup file.
Minimum System Requirements
| | |
| --- | --- |
| OS | MacOS Sierra, El Capitan 10.11, Yosemite 10.10, 10.9, 10.8, 10.7, 10.6 |
| Processor | Intel Core 1GHz or above |
| Free HD Space | 1 GB or more disk space for installation |

Supported Devices

| | |
| --- | --- |
| Android | From Android 2.1 (Froyo) to Android 7.x (Nougat) |
| iOS | From iOS 5 to iOS 10 (all versions) |