MobileTrans Phone Transfer

Easily Transfer Data Between iPhone, Android BlackBerry and Windows Smartphone
Have you finally decided to change from using an iPhone to an Android or perhaps the other way around? Are you bored with your Windows or BlackBerry smartphone and planning to switch to iOS or Android? Do you have a lot of contacts, files, pictures, or text messages that you really do not want to lose when you start using your new smart phone? Naturally, there are tons of applications (both free and inexpensive ones) that can be used to transfer your data files from your iPhone to your computer or from your Android to your computer. However, chances are pretty good that you do not really want those precious files to collect dust on your computer. You want to be able to transfer the files from your old smart phone to your new phone. Furthermore, you probably do not want to go through the hassle of having to download two or three different programs just to get it from your iPhone to your computer to your Android (or vice versa). MobileTrans is just the solution you are looking for. See how it works!
Why Should I get MobileTrans Phone Transfer?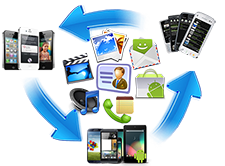 Technology changes, advances, and upgrades all of the time. For most of us it seems like every day there is a new cell phone on the market that we feel like we must have. There is nothing wrong with rushing out and getting a new phone because you feel like you must have it. But, if you are someone who inputs all of your contacts one-by-one into a new phone every time you purchase a new one, you are doing it wrong! This is a process that could take hours, but with MobileTrans it is a process that only takes minutes.
| | |
| --- | --- |
| | |
There is absolutely no reason why you should consider pictures or text messages on a phone to be lost simply because you moved onto a new one. Furthermore, there is no reason why you should think that you cannot transfer the data simply because you decided to move from an Android to an iPhone or from a BlackBerry to an iPhone and they use different operating systems. MobileTrans is an application that will take care of all of that for you. This advanced program let's you transfer contacts, SMS, pictures, music, movies, videos and more from an old smartphone to new one. You just have to worry about how you are going to pay for your new phone, let MobileTrans worry about transferring your data files.
Key Features of MobileTrans Phone Transfer
Still wondering why MobileTrans is the number one choice for anyone who is looking to convert from one smartphone OS to another like from iOS to an Android or from Android to iOS? Here are some of the key features that this amazing application offers its users:
Transfer All Different Types of Data
The ability to transfer all different types of data. This includes (but is not limited to): SMS messages, call history, music, videos, photos, and applications.
Support Multiple Mobile Devices
Supports over 2,000 different phones including (but not limited to): Samsung Galaxy (including Samsung Galaxy S6 and S6 Edge), BlackBerry, Nokia, HTC, LG, Droid, and all models of iPhone (this does include the iPhone 6s and iPhone 6s Plus).
Transfer Data Between Phones on Different Networks
Transfers data between different providers and networks including AT&T, Verizon, Sprint, and T-Mobile without any problems.
Retain Important Details

Retains all of the important details in your contact list including: job titles, email address, birthdays, company names, etc.
No Data Loss
Does not cause any data loss during the transfer process.
Minimum System Requirements
| | |
| --- | --- |
| OS | Windows XP/Vista/7/8/8.1/ or 10 |
| Processor | 750MHz Intel or AMD, or above |
| Free HD Space | 100 MB or more disk space for installation |
| RAM | 256 MB or above |

Supported Devices

| | |
| --- | --- |
| Android Devices | From Android 2.1 (Froyo) to Android 5.x (Lollipop) |
| iOS Devices | iOS 5, iOS 6, iOS 7, iOS 8, iOS 9 (all versions) |
| BlackBerry | OS 10 and earlier versions |