How to Save and Print iPhone Text Messages for a Court Case or Legal Matter
By: Johanna Parker
Posted In: iPhone Tips & Tutorials
The world of law is changing, and it is now possible and permissible for people to use digital means of communication as evidence in court. This means that if you are involved in a legal matter, that you can use any text messages that you have received from the people that you are involved with as evidence, which is a huge change from the way that things used to be ten years ago. The difficulty that many people have is that they are not able to print their iPhone text messages, which is a requirement of many courts across the country. This can be really problematic: what if someone promised to pay you a certain amount of money in an iPhone text message, and then later refused? What if a person stated one thing in an iPhone text message and then another in an email? What if someone is threatening or harassing you via text message?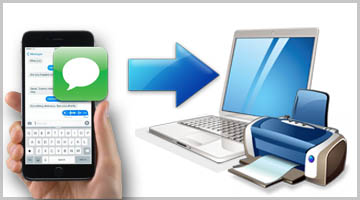 All of these situations require you to be able to print out that iPhone text message and prove it, and if you do not know how to, then your court case could go in a very different direction. That is why we have put together this easy step by step guide on the different ways that you could save and print out your iPhone text messages for any court case or legal matter that you are involved in.
Option 1: Forward the iPhone text message to your email account
This way is very simple, and may be best if the rest of your evidence is provided through email. All you have to do is open up the iPhone text message, and forward it. When you go to type in the phone number that you want to forward the message to, don't type in a number, but type in your email address. This is probably the simplest way for you to be able to save and print this iPhone text message, but it does have limitations. The message will not contain the time and date that the original message was received, just the time and date that the message was forwarded to your email address. However, you could use other phone records to substantiate this in court, though this can be difficult with iPhone text messages.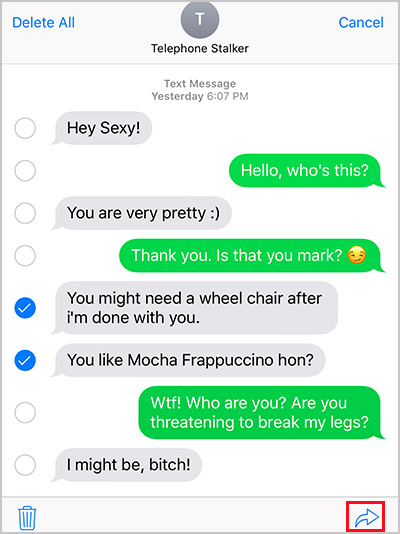 Option 2: Print your iPhone text messages with iPhone Messages Transfer app
You can also use app app called iPhone Messages Transfer to save or print your iPhone SMS messages. This app will print your iPhone text conversations with date and time stamps which is pretty useful if you're planning to present these text messages as legal evidence in a court. Just download the app by clicking on the appropriate download button and follow these steps:
Step 1: First, you'll need to run the program on your computer and make sure that your iPhone is connected to your computer. When it starts up, it will be able to read all of your iPhone text messages. You'll need to have iTunes 12.0 or later for this to work.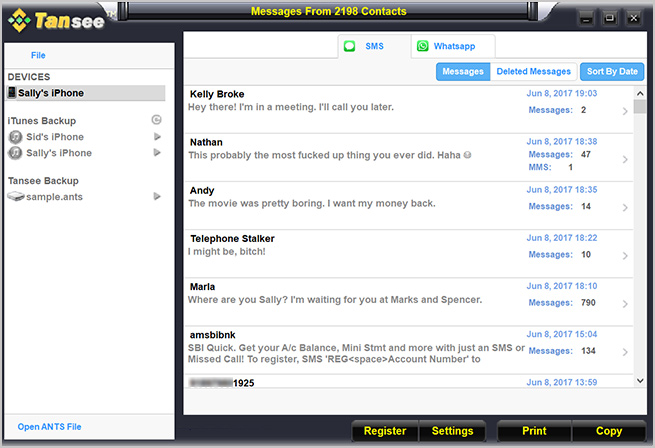 Step 2A: If you want to print all or the selected text messages from a contact, just click on their name and then click the 'Print' button. You can then pick the messages from them you want to print (or all of them).
Step 2B: If you would rather have them saved on your computer as a file (HTML, Text, or PDF), you can select that contact and then click on 'Copy'. Choose the file type that you want to save the messages as, and then click on 'Next', and then 'Start Copy'. Once the file is saved on your computer, you can open the file and print it at any time.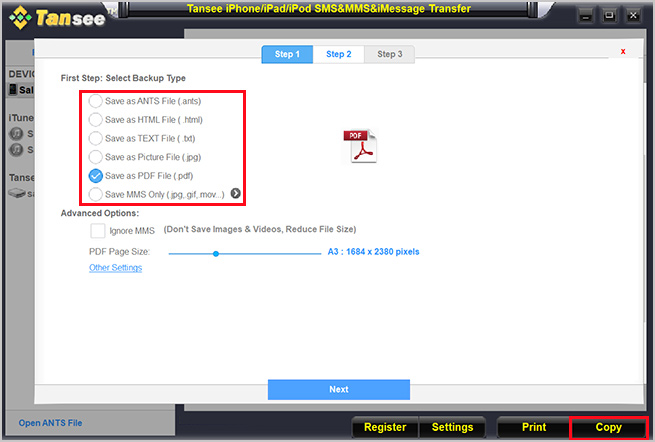 Tip: We would recommend using the PDF option of saving them if you are going to use them for a court case or legal proceedings, as it saves time and date stamps. You can open the PDF file in the programs like Adobe Reader or web browsers like Google Chrome and give the print command.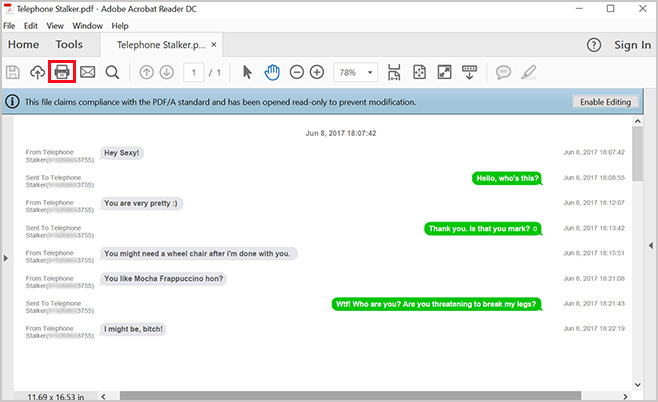 Option 3: Take screenshots of your iPhone text conversation
This is a very quick way of ensuring that you have evidence of the iPhone text messages that you have sent and received, and you can do it almost immediately. With the iPhone text messages that you want to document on your screen, press the home button and the sleep/wake buttons at exactly the same time. You will see a quick flash of light across your screen, and then you will be able to find this image as a screenshot in your photos on your phone. You can now send them by email to yourself. The real trouble with this method is that unless you are able to swipe across the screen to show the time, and press the home and sleep/wake buttons at the same time, you will not have the vital information. Also, you need to take multiple screenshots if you want to capture a long conversation with lots of texts.