How to Transfer Snapchat Photos and Videos from iPhone to Your Computer
By: Johanna Parker
Posted In: iPhone Tips & Tutorials
When you are out and about with your friends and family, there are very few of us now who reach for our cameras. Instead, we have become completely reliant on our smartphones, which often have cameras built-in to them that are even better than the majority of the cameras lying around in our cupboards. That means that many of our favourite photographs and videos are on our smartphones, and that means that they never actually get removed from that device. But what happens when you use an app like Snapchat?
Snapchat is an app that proved to be incredibly popular with people who wanted to send images to their friends and families, but did not necessarily want them to be able to be viewed later on! Whether it was that drunken kiss that you massively regret, or just a terrible outfit that you had tried on but immediately hated, it is so fun to send hilarious images and videos to your friends and families, but not always great to look at them later in the light of day!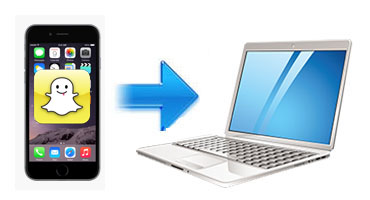 On the other hand, there are often images of spontaneous moments that are absolutely perfect, wonderfully summing up the characters in your friendship group. Sending them on Snapchat means that once the timer has gone down, they are lost forever – which is a real shame. This is especially true for videos, that often capture a realness that longer videos never do. It would be amazing if there was a way that a person could transfer their Snapchat photos and videos from their iPhone to a computer, but that has always been seen as completely impossible.
Until now. Although it is still rarely known about, it is now possible for a person to transfer the videos and images that they have sent via the app Snapchat onto their computer, so that they can look at them in the future and even print them out – if you ever would want to!
Step 1: Download the app called Snap-Hack (Lite)
First of all, you'll need to download the app called Snap-Hack (Lite). It has been named especially to make it memorable for those that have Snapchat, so it should be pretty easy to find. Just load it onto your iPhone, and wait for it to boot up.
Step 2: Enter your Snapchat and Gmail credentials
When the app Snap-Hack has opened, go to advanced settings and enter your Snapchat and Google login details. Make sure that you know what they are! You can use any Gmail account for this purpose. If you don't have a Gmail account, you can create one before you start using this app.
As the app loads, you will suddenly be amazed to see that you can use this app to receive all the Snapchat photos and videos! Absolutely all of them that you have received should be in front of you know, and you should be able to scroll up and down to have a look at them. Every time you get a new snap or video, make sure you FIRST open it in Snap-Hack app.
Note: It is not necessary to buy coins, if you just want to transfer your Snapchat photos and videos from iPhone to computer.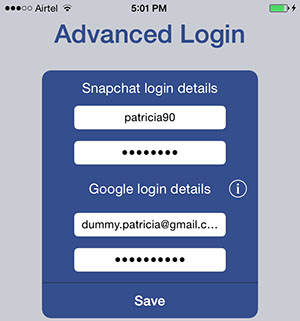 Step 3. Download and install iBackupBot on your computer
The next step of the process to transfer your Snapchat images and videos from your iPhone to your computer is to download and install program called iBackupBot onto your computer. This program is incredibly simple to use, so all you need to do is download it as per your operating system.
Step 4: Select your device and click Backup Now button
Now you will need to run iBackupBot program. This should not take too long, but of course every single computer is different. Be patient, and when it is ready, connect your iPhone to the computer. A window will appear with all the information about your device on the left. Now select your iPhone under the 'Devices' section and click "Backup Now" button.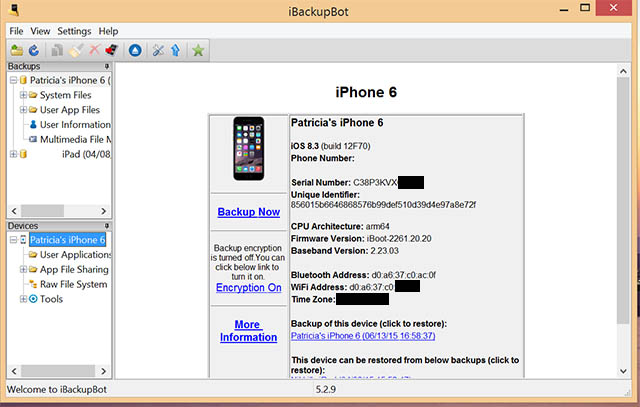 Step 5: Open your latest backup and transfer SnapChat data from iPhone to computer
Now you need to go to Backups section and select your iPhone from the list of devices. "User App Files" is one of the options in front of you, and you should choose it. In the end, find the Snap-Hack folder and then go to the "Documents" folder. You will now see the list of Snapchat photos and videos that people have sent you. Select the files that you want to transfer, and then click "Export" button to save them on your computer.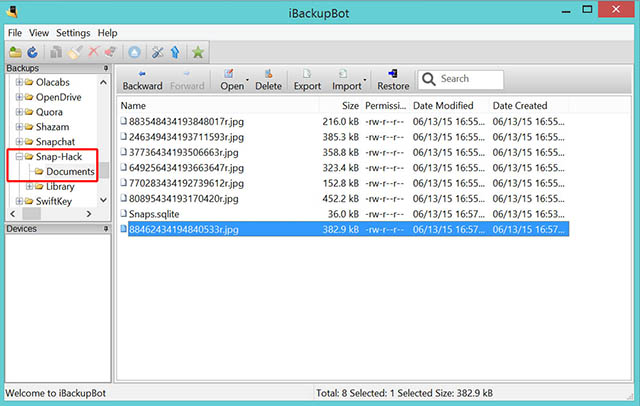 Download Free Version of iBackupbot Windows