How to Transfer Your Most Important Data from Android to iPhone 6s or 6s Plus
By: Johanna Parker
Posted In: iPhone Tips & Tutorials
One of the main reasons that people do not like to move from one operating system to another is because they are concerned that they will not be able to take all of their data with them. Photos, contacts, apps, videos, and music are all essential things that we come to rely upon and greatly enjoy on our smartphones, and the idea of having to start from scratch can be very irritating. However, if you are currently on an Android device and you definitely love the look of an iPhone 6s or iPhone 6s Plus, then do not worry: there is now a ridiculously easy way for you to transfer all of your data.

This switching process means that you will not have to spend a lot of time and effort trying to transfer all of your apps and the data within them over to your new phone: instead, you can have them waiting on your new iPhone 6s or iPhone 6s Plus. The same goes for all of your music, your contacts, your photographs, your music, and your videos, so that almost as soon as you start to use your new iPhone it will feel like your device, with everything on it ready and waiting for you.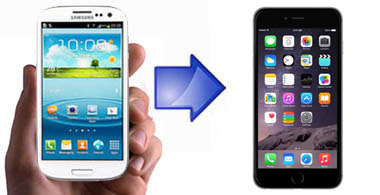 So, how should you go about transferring your most important data from your old Android to your new iPhone 6s or 6s Plus? All you need to do is choose one of these simple methods, and then just follow their clear steps:

(a). Transfer Content from Android to iPhone 6 or iPhone 6s Plus with Move to iOS App
(b). Transfer Content from Android to iPhone 6/6s Plus with MobileTrans Phone Transfer
A. Use Move to iOS app to copy your data from Android to iPhone 6s/6s Plus
As the title suggests, Move to iOS app will transfer your Android device's photos, videos, contacts, message history, bookmars, etc. to your new iPhone 6/6 Plus or to any other iOS device in a few simple steps. Here are the steps you need to follow to transfer your content automatically from your Android with the Move to iOS app:
Note: Movie to iOS app works with Android devices running 4.0 (Ice Cream Sandwich) or later. If your Android phone or tablet is not running Android 4.0 or later, you can refer to next method which will work with all the Android devices.
Step 1: Firstly, turn on your iPhone 6s/6s Plus as normal, and when you get to the 'Apps & Data' page, you will need to choose 'Move Data from Android'.

Step 2: Now turn on your Android smartphone, and open up the Google Play Store. You should search for the app called 'Move to iOS'.

Step 3: Once you have found the app, you should install it, and when it is ready to be used, open it up.

Step 4: Both your old Android and your new iPhone will ask you to 'Continue', and then on your Android smartphone you should 'Agree' and then tap 'Next'.

Step 5: Your new iPhone will now be displaying a special unique 12 digit code. You will need to input this code onto your old Android.

Step 6: The two smartphones will now connect over your WiFi, and you will need to make decisions about exactly what you want to transfer over. Options include your Google Account, text messages, Chrome bookmarks, photos, contacts, and photos. Once you have decided, tap on 'Next'.

B. Migrate Data from Android to iPhone 6s/6s Plus using MobileTrans
You can also use a desktop utility called MobileTrans Phone Transfer to copy all the content like text messages, contact list, bookmarks, photos, videos and music from Android to your new iPhone. Download the program, and make sure that it has properly installed on your PC or Mac, and then double click on it to open up and then follow these steps:
Step 1: Connect your iPhone and Android to your computer via USB cable
Connect your old Android and your new iPhone to your computer with their respective USB cables. Make sure that they are both turned on, and your computer has detected both of them. The Android to iPhone data transfer tool will have an option called 'Phone to Phone Transfer', and you should click on that to choose it. You should make sure that you have chosen your iPhone as the destination device; otherwise the process will not work properly.
Note: You will have to enable USB debugging on your Android device. If your computer does not recognise one or both of your smartphones, then you will need to remove them, wait for a moment, and then retry.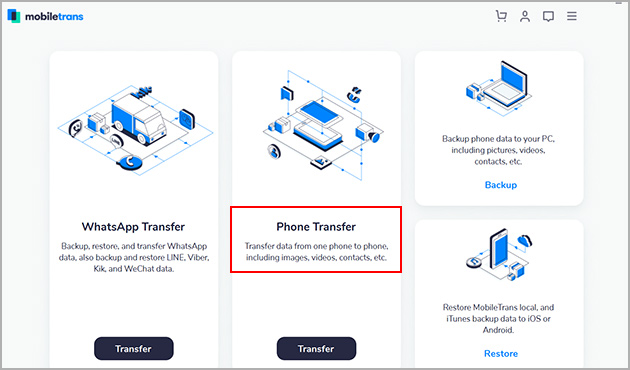 Step 2: Select the content you want to transfer to your iPhone 6s/6s Plus
Now you will need to go through and choose which parts of your data on your old Android smartphone you want to transfer over to your new iPhone. You have a variety of different options to choose from, including text messages, contacts, videos, photos, and music.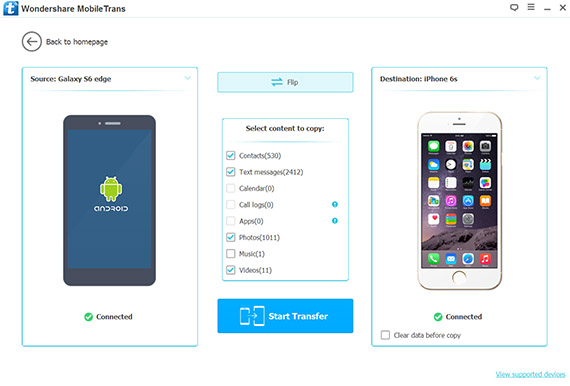 Step 3: Click "Start Transfer" button to start the transfer process
When you are happy that you have chosen all of the data that you want to be transferred, you should click on 'Start Transfer'. A dialogue box will open up so that you can see how the transfer process is going.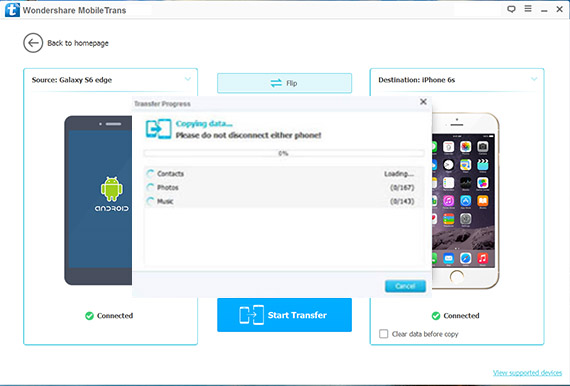 You should make sure that neither of your devices are disconnected from your computer while this is happening, otherwise the transfer process will not be successful.

Download Free Version of MobileTrans for Windows
Buy Full Licensed Version of MobileTrans for Windows ($29.96)