How to Transfer Your Data from BlackBerry to iPhone or Android
By: Johanna Parker
Posted In: iPhone Tips & Tutorials
Many people are switching from using their Blackberry's to the touch screen operating systems iPhones or Androids. If you have been holding off on making this switch because you are afraid of losing all of your information, there are some simple solutions to help you. With the MobileTrans Phone Transfer program, you can transfer Blackberry contacts, call logs and text messages to iPhone or Android. Whatever your reasons for giving up your Blackberry and moving on, transferring information between your old phone to the new one does not have to be difficult. This step by step guide will show you how to transfer data from Blackberry to iPhone or Android. You can take these steps to ensure that all of your valuable information is not lost.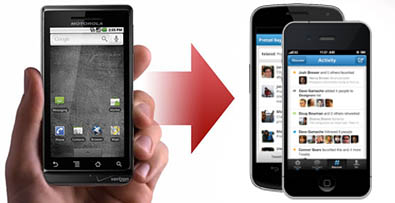 First of all, you are going to need to locate and download a program called MobileTrans Phone Transfer. This is a program that was created to make the process of transferring data from one phone to another with ease. Let's get it started by downloading free trial version of this software:
Step 1: Backup valuable information onto your computer
Backing up your BlackBerry phone information onto the computer is the first step of the process. If this is something that you routinely do, then skip this step and go to step number 2. However, if you have not already installed the Blackberry Desktop Software, now is the time to do that. This free downloadable program allows you to upload information from your Blackberry to your computer.

Once you have followed the instructions of how to put this program on your computer, you are ready to backup your valuable information. Connect your phone to the computer with a USB cable and click "back up now" button after your device recognized by BlackBerry desktop software.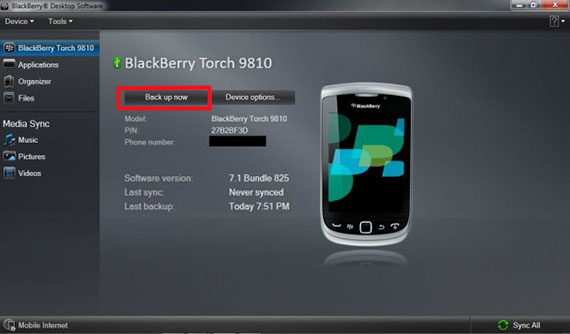 Step 2: Connect your new iPhone or Android to the computer
Now launch the MobileTrans program and connect your iPhone or Android to your computer via USB cable. Click the Restore from Backups > from BlackBerry backup file button under the Restore from Backups section of the program.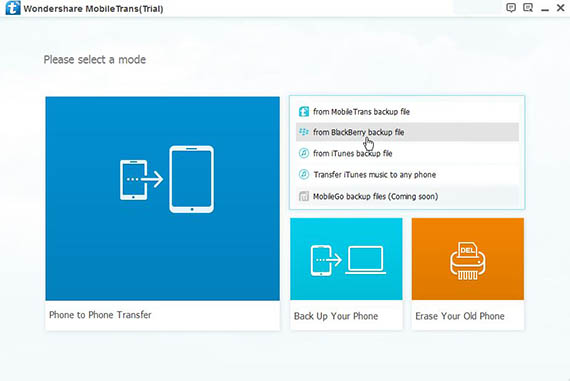 Note: Be sure to have iTunes already installed on your computer if you want to transfer data from Blackberry to your new iPhone.
Step 3: Transfer BlackBerry contacts, text messages and call logs to your iPhone or Android
Once the screen changes, you will see a box that says Blackberry backup file to the left hand side of the screen. Check the backup box for the most recent backup date. In the middle of the screen, the information of transferrable will pull up. To transfer Blackberry contacts, call logs and SMS to Android or iPhone check the boxes next to the information that you would like to move. Next, click the "start copy" button and wait for your texts, contacts, and call logs to be transferred.
Note: It is important that you do not disconnect your phone until the transfer process is complete.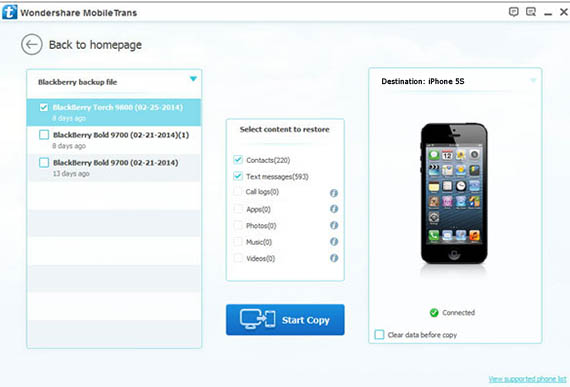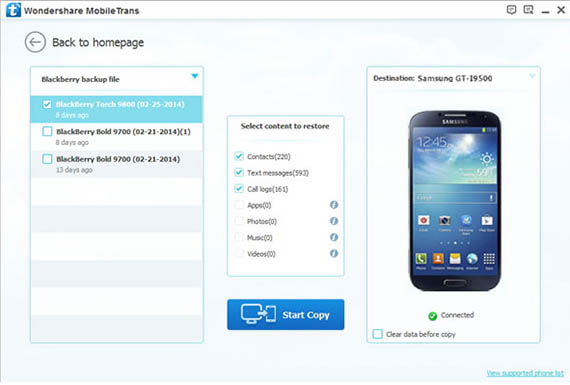 Through the assistance of the MobileTrans Phone Transfer program, you can easily select what information you want copied on your new iPhone or Android. It is important to note that at this time, Mobile Trans Phone Transfer is only able to transfer text messages, contacts, and your call logs. However, you can move your most valuable information without losing it or spending hours of manually inputting contacts.
Download Free Trial Version of MobileTrans