How to Transfer Data from iPhone 4S/5 to Samsung Galaxy S4
By: Johanna Parker
Posted In: iPhone Tips & Tutorials
Are you getting bored with your iPhone 4S/5? Looking to try the Samsung Galaxy S4 smartphone instead? Perhaps you are hesitant because you do not want to lose all of the data files you have stored on your iPhone? Well, you do not have to! Anyone can convert from an iPhone to and Android and keep all of their precious data files in the process. In this tutorial, we are going to show you how to transfer or move all your data from an iPhone 4S/5 to Samsung Galaxy S4 in just a few easy steps!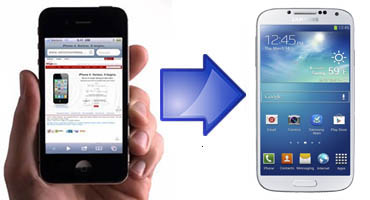 The process of moving data from your iPhone to your Samsung Galaxy S4 is not nearly as complicated as you might think it is. In fact, it is a process that can be broken down into a few simple steps. First of all, you are going to need to locate and download a program called MobileTrans. This is a program that was created to make the process of transferring data from a used phone to a new phone with ease. The program is effective and extremely user friendy. Being able to transfer data from iPhone 4S/5 to Samsung Galaxy S4 is a quick and easy process thanks to this program. Let's get it started by downloading free evaluation version of this program:
Step 1: Launch the Program
Once you have downloaded and installed MobileTrans to your computer, the first step is going to be to run the program and choose the "phone to phone transfer option" from the primary window. Once the program has loaded you should be able to enter the home screen of the application.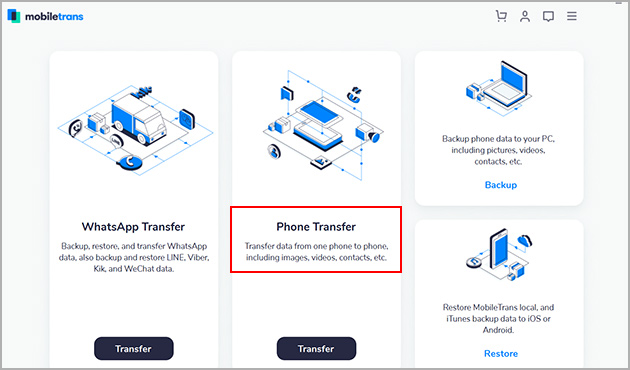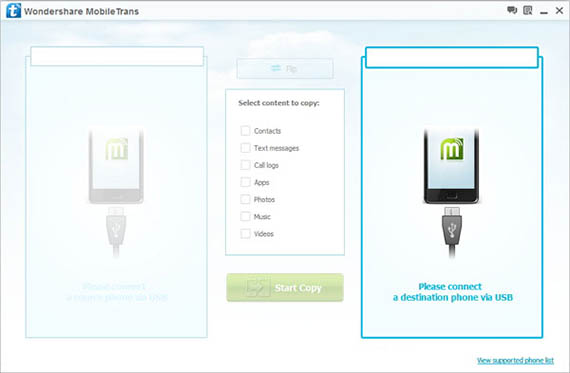 Step 2: Connect Both Phones to Your Computer
In order for this data transfer to work, you are going to need to be able to connect both your iPhone 4S/5 and your Samsung Galaxy S4 to your computer at the same time. Once you have connected both of the smart phones, the application should automatically recognize both of them.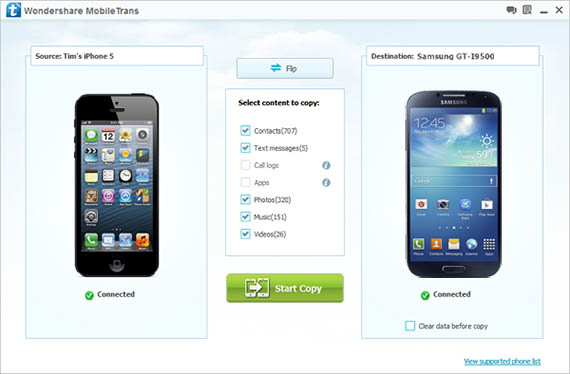 Note: If iTunes is not present on your computer, the application is going to remind you that you need to install it in order to move data from iPhone 4S/5 to Samsung Galaxy S4.
Step 3: Transfer Data to Samsung Galaxy S4
Keep in mind, you do have the option of selecting clear data before you transfer the data from your iPhone 4S/5 to your Samsung Galaxy S4. This is an option you are only going to want to select if you intend to empty the Android before putting new files on it. A window will display all of the data files that you can transfer from your iPhone to your Android. This will include contacts, text messages, pictures, and more. All you have to do is select what you want to transfer and then click the "Start Copy" button. This will move all of the files you have selected from your iPhone to your Android.
Note: It is important that you DO NOT disconnect either of the phones until the transfer process is complete.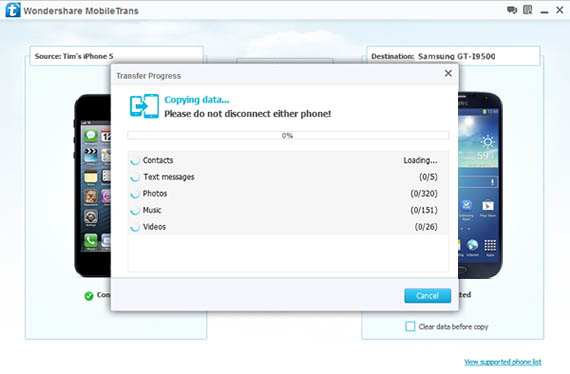 Three simple steps (four if you count downloading and installing the program) is really all it takes to move your files from your old iPhone to your new Android phone. MobileTrans is the most convenient and easy to use one-click phone transfer tool you are ever going to come into contact with. Apart from transferring pictures, music and videos, this advanced tool lets you transfer text messages and contacts too. This program is compatible with over 2,000 phones including Android and all models of iPhone.
Watch a Video Demonstration of MobileTrans
Download Free Trial Version of MobileTrans for Windows OS
Buy Full Licensed Version of MobileTrans for Windows ($29.96)