How to Quickly Transfer or Copy Windows Phone Data to iPhone
By: Johanna Parker
Posted In: iPhone Tips & Tutorials
In this increasingly technological world, the opportunity for change and upgrade is becoming ever more prevalent. In particular, the mobile phone industry often sees changes and updates which are more often helpful but sometimes hinder your ability to function. These changes, or lack thereof, often prompt customers to make the decision to switch to a different phone brand so as to get the latest new features or simply because they dislike their old brand. Unfortunately, a large barrier to potential converts is the fear of a loss of information. From critical business info to your current level on Candy Crush, losing your data is a mortifying thought and one which will deter the average customer from switching. Thankfully, this concern is not a real concern as there are numerous ways to ensure your data makes it from your old phone to your new phone safely.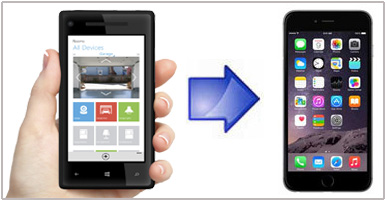 Windows Phones, in particular, have become notorious for their inefficacy in light of their more developed counterparts, particularly the iPhone. Thus, knowing how to effectively transfer data from Windows phone to iPhone is a wonderful skill that will enable further versatility. Today, we will be discussing the process by which a Windows Phone User can transfer their data from their Windows phone to an iPhone with ease. Ultimately, there are three main steps to achieve this, each of which is simple and easy to accomplish.
Step 1: Download, install, and execute the program on your computer
First, one must download and install MobileTrans Phone Transfer on their PC or Mac. Phone Transfer is a great tool to store, maintain, and manage your data so that it can be easily transferred to your newest mobile device. It supports data transfer from contract phones to no-contract cell phones seamlessly. It also, supports migrating data between phones despite the fact that they are from the same or different carriers. When you open the program you are able to choose one of four solutions; Phone-to-Phone Transfer, Restore from Backups, Backup Your Phone, or Erase Your Old Phone.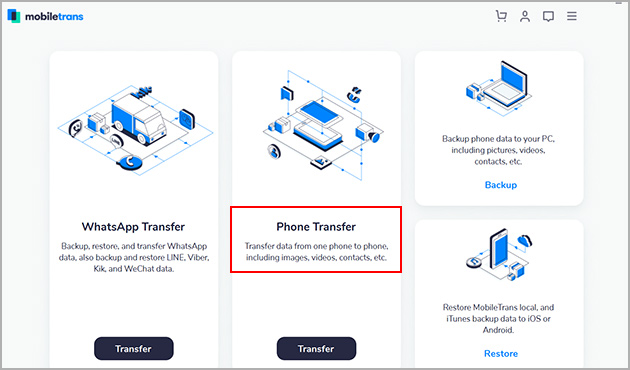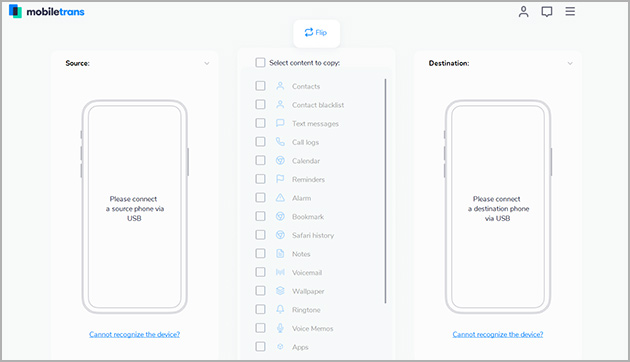 Step 2: Connect Windows Phone and iPhone to your computer
After the mode selection, you should be greeted by a minimalistic screen which allows clients to select data from the source phone and move it to the destination. To begin your transfer simply select connect both your Windows Phone and iPhone to your computer via USB cables. Upon establishing a connection you can switch the source and destination by hitting the "flip button."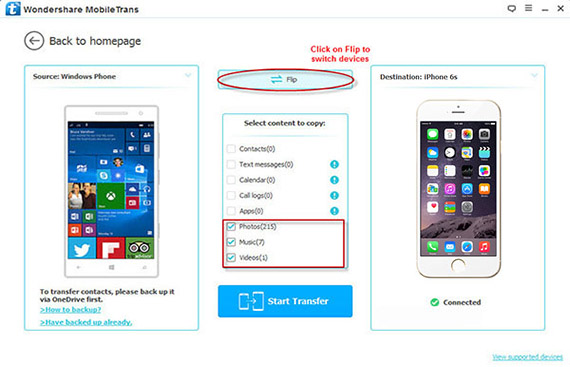 Step 3: Select the files you want to transfer from your Windows phone to iPhone
Now, select the files which you wish to transfer. The data types are organized into four main content types; contacts, photos, music, and videos. Try to eliminate extraneous content before conducting this transfer so that only stuff you desperately need on your new phone is transferred.
Note: If you want to transfer contacts from Windows phone to iPhone, you need to backup your contacts to OneDrive first. Then, you can use "Restore From Backups" mode of this program to restore the contacts to your iPhone.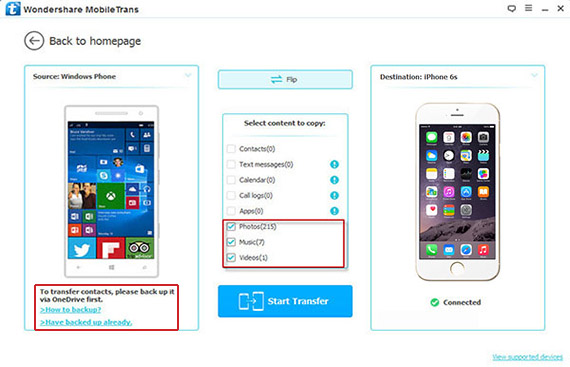 Step 4: Press "Start Transfer" button to begin transferring data
Finally, simply press "Start Transfer" to immediately begin transferring. Depending on the size, quality, quantity, and/or youthfulness of your phone, this transfer may take a while. Be patient and in no time you will have a fully completed data transfer.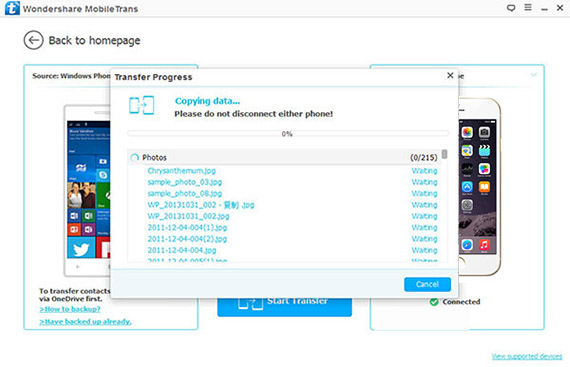 Don't let irrational fears of not being able to transfer data prevent you from updating to a better, more technologically advanced mobile device. With the Phone Transfer, you can have your transfer data from Windows phone to your iOS device in a matter of minutes.
Download Free Version of MobileTrans for Windows
Buy Full Licensed Version of MobileTrans for Windows ($29.96)