iPhone Contact to Computer Transfer Tool

Transfer iPhone Contacts to PC without Hassle
Have you just changed your old iPhone and are now looking for a solution to transfer iPhone contacts to the new phone or to copy iPhone contacts to PC? Or you want to create backup of your iPhone contacts in case of accidental data corruption or when your iPhone gets stolen? If the answer is yes, then you are on the right page. Now, with the iPhone Contact to Computer Transfer Tool also known as iPhone Contacts Backup and Restore, you can easily transfer iPhone contacts to PC and prevent your valuable contacts from being accidentally lost. See how to export your iPhone contacts to PC with this program.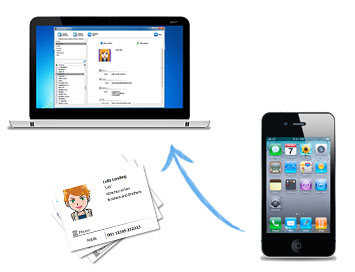 With this software iPhone users can backup or transfer iPhone contacts to PC in different formats like CSV, HTML, PDF, Text, Word and vCard (.vcf) in just a few easy steps. This handy tool fully supports the latest iOS 8 and iTunes 12 updates. This program is fully compatible with all series of iPhone including iPhone 3GS, iPhone 4, iPhone 4s, iPhone 5, iPhone 5s/5c, iPhone 6/6 Plus and the new iPhone 6s and iPhone 6s Plus.

Besides transferring iPhone contacts to computer, you can also use this iPhone contact manager to edit or delete your iPhone contacts. Contacts are the most important and sensitive thing for any iPhone user and with this advanced iPhone contacts backup tool you can wipe out all your tensions related to important iPhone contacts security.

Have a strong and reliable backup of your iPhone contacts with iPhone Contact to Computer Transfer Software!
Main Features and Functions
Transfer iPhone Contacts to PC
Transfer all or the selected iPhone contacts to your computer as a vCard (.vcf), HTML, PDF, Text, Word or CSV file format easily.
Transfer Contacts from Your Old iPhone to Your New iPhone
This program let's you transfer contacts from an old iPhone to a new one in a few easy steps.
Backup and Restore iPhone Contacts
Use this porgram to backup your iPhone contacts to a computer and restore then anytime to your iPhone.
Share your Contacts between Multiple Phones
This tool is also useful to transfer contacts to computer and then share them between iPhones or to other phones like Android, Nokia, and Blackberry and Windows phones.
Manage iPhone Contacts from Your Computer
This program let's you delete iPhone contacts, add new contacts to iPhone, and print iPhone contacts directly from your computer.
Fully supports iOS 8 and iTunes 12
This program is compatible with iOS 9 and iTunes 12 (also support older iOS versions).
Multiple Language Support
Supports other languages like simplified Chinese, German, Spanish, French, Italian, and Japanese.
Minimum System Requirements
Operating system should be Windows XP/Vista/7/8 or 10;
Processor: 1000MHz Intel, AMD CPU or above;
Hard Disk Space: 100 MB or more;
iTunes 12 or later