Why Nexus & How to Transfer iPhone Data to Google Nexus (Including Nexus 5, 6, 5X, and 6P)
By: Johanna Parker
Posted In: iPhone Tips & Tutorials
What is there about the Nexus that keeps drawing people to switch from the mega popular iPhone to the next generation Nexus from Google? If you have already decided that Nexus is for you than you may be concerned about how to transfer iPhone data to your new Google Nexus device. Exchanging data across platforms can be a bit tricky but do not fret, this complete 3 step guide below will get you on your way in no time.
Let's take a moment to look at what makes the Nexus device worth the effort to transfer iPhone data to Google Nexus. New Nexus devices are now capable of supporting LTE in multiple bands: 700/800/850/900/1800/2100/2600, this functionality was missing from the older version and kept many potential users away. Then there was the battery life the battery on the Nexus 4 was not top notch but this time with the latest Nexus devices like Nexus 5X and 6P will get you through a typical 9 to 5 work day with flying colors.
The great stock Android experiance and a reasonable price tag, if you have been on the fence for a while it may be time to make the switch from iPhone. In order to copy iPhone data to a Google Nexus device it only takes three amazingly simple steps. Yes it has been a headache in the past to switch from one platform operating system to another and maintain years of precious data, but now the story has changed.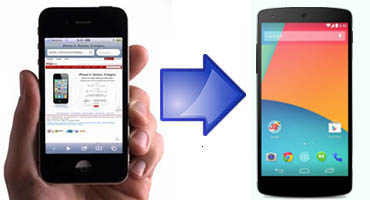 If you want to transfer iPhone data such as music, photos and video all you have to do is simply copy them through your computer with a USB cable directly to your Nexus smartphone or tablet. The question probable is how to transfer operating system dependent data such as contact information, call history and text messaging. It is amazing how dependent our daily lives are on reviewing text messaging logs.
We will show you how to make the transfer using the followings 3 steps. This method will take you from iPhone to a Nexus device by using a third-party program called Mobile Trans. If you have not taken a look at its capabilities before you are in for a welcome surprise.
Step 1: Install and Start MobileTrans
The 1st step requires that you download, install and launch Mobile Trans on your desktop or laptop. Choose the "Phone to Phone Transfer" option, then you will see a window that pictures both an iPhone and an Android phone. The phones will be in silhouette until the next step is taken.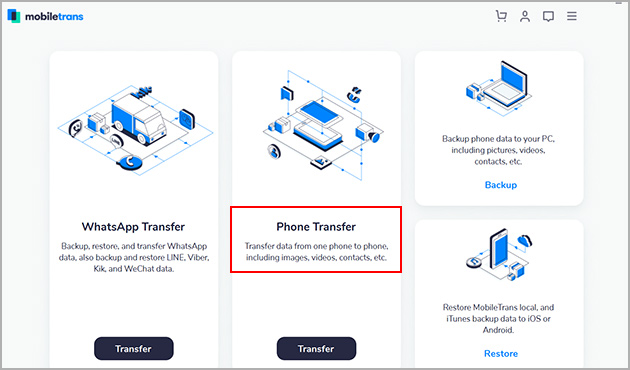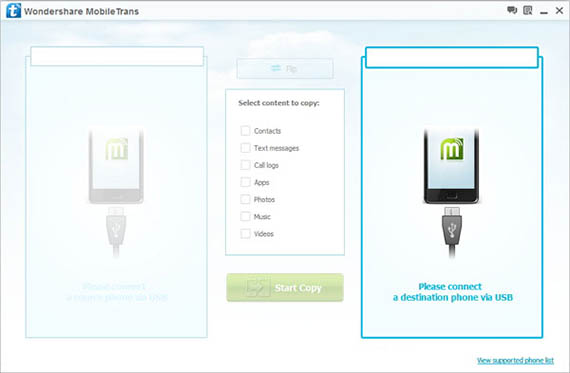 Step 2: Connect iPhone and Nexus to Your Computer
The 2nd step requires that you connect both the iPhone and the Android phone to the PC. Both phones need to be connected to the PC at the same time. Once they are both connected the program will automatically detect the iPhone and the Android. The silhouette of the two phones will now show as a clear image and check will indicate that they are both connected through the Mobile Trans program.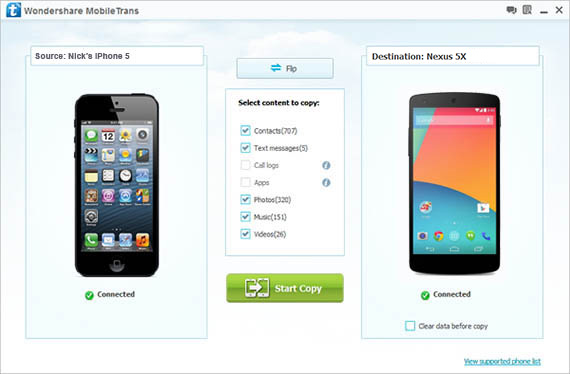 Step 3: Transfer Data to Your Google Nexus Smartphone/Tablet
The 3rd and final step requires that you simply click on the green start copy button in the middle of the screen between the images of the two phones. Before you click the "start copy" button you will want to choose the data you want to transfer. The transferable data types will be indicated between the images of the two phones simply check each box for the type of information you want to transfer. Types of transferable data are contact information, text messaging SMS, music, videos and photos. Click the start copy when the transfer is complete disconnect each of your phones and away you go.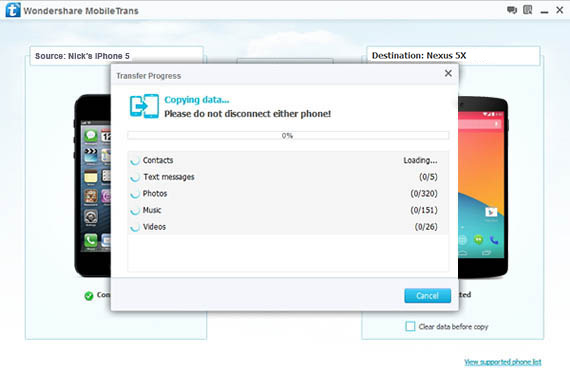 How easy is that. What a simple, effective and efficient transfer of all your important data. It is very important to make sure that iTunes is installed on your computer when transferring music files. Also both phones must remain connected to the computer while the transfer of information is in process. Apart from Google Nexus devices, this program is compatible with over 2,000 android phones and all models of iPhone including new iPhone 6s and 6s Plus.
Watch a Video Demonstration of MobileTrans
Download Free Trial Version of MobileTrans for Windows
Buy Full Licensed Version of MobileTrans for Windows ($29.96)